Testimonials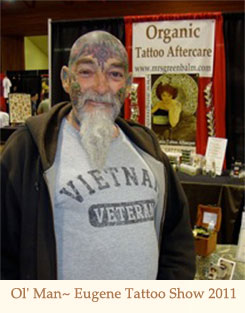 Tattoo Aftercare
Tattoo Artist
E.S. Farmer
writes,
I love your product and consider it the best.
I recently purchased some and see it as an item I would like to promote in my shop. It is impressive as tattoo aftercare, as a lip balm, and hand cream. It also alleviated the pain of my sunburn.
Sincerely,
Stan Farmer
Tracey D. of WY writes," Just wanted you to know that I had more work done and it's healing so much faster than any other product I've been told to try. Hardly any bruising- way less swelling… this stuff is fantastic!"
Nita from OR commented," My son is a tattoo artist and he inked me for my 50th birthday. I applied Mrs GB 3-4 times a day and by the 5th day it was completely healed."
Tiia S. of Ogden, UT wrote, " I bought Mrs. Greenbalm® products the first time at the SLC Tattoo Convention 2 years ago and am so enthusiastic to tell you how I feel about the product! I have been getting tattooed for nearly 7 years now and have had nothing work as well!. Other aftercare products have pulled color out, delayed healing and were otherwise unpleasant to use.
Chemynne P. of Portland, OR writes, "we use it for so many things: cuts and scrapes, dry knuckles, ear lobes before putting plugs in and new tattoo work... "